Eau De Toilette

100% Authentic
Item #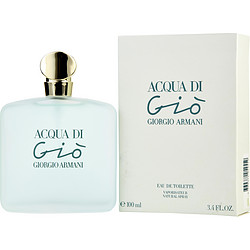 Zoom
eau de toilette mini .17 oz
eau de toilette spray 1.7 oz
eau de toilette spray 3.4 oz
Free Shipping in U.S. (orders over $59.00)
Design House:

Giorgio Armani

Fragrance Notes:

fresh floral, sweet pea, jasmine

Year Introduced:

1995

Recommended Use:

daytime
No reviews written for this product
I love Acqua di Gio by Giorgio Armani because it has a fresh floral, sweet pea, and jasmine scent that is so appealing and lovely to smell. It is not so overpowering but instead gives such a an inviting scent.
Written by Anonymous on June 09, 2015
now this is number one on my list, and i bought 4 different types of perfume which i love them all , but ACQUA DI GIO is numero uno of all times lol love it, love love it if i could get a big bottle cheap i would. its strong so you don't need much i just love the smell omg love it.
Written by carolyn on December 12, 2014
This fragrance to me is nothing short of perfect. I feel naked without it so I wear all day every day. It is feminine and leaves a scent when your out of the room without leaving a headache for others. Their is a subtle yet intoxicating aroma to it like no other. It does not have a woodsy nor citrus nor spicy nor fruity smell, It is not "flowery" either, yet it is fresher than a bouquet of flowers. I highly recommend this perfume.
Written by Moma4Jesus on October 05, 2014