Bath & Body Perfume 1 oz (New Packaging)
WFor Women
Item #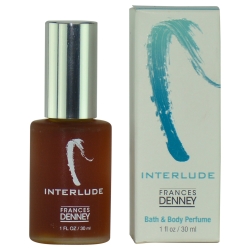 bath & body perfume 1 oz (new packaging)
Free Shipping in U.S. (orders over $59.00)
Design House:

Frances Denney

Fragrance Notes:

Floral, citrus notes

Year Introduced:

1965

Recommended Use:

casual
No reviews written for this product
Interlude by Frances Denning is a fragrance of delightful order. It never grows old or changes order. We have given it to a friend for Christmas for thirty years. She is known by this smell.
Written by Anonymous on August 16, 2015
Read Review details ►
This is my signature fragrance, I've been wearing it for over 30 years. All I wear everyday,
Written by chemdeva on August 06, 2015
Read Review details ►
I have been wearing Interlude Bath and Body Perfume my entire adult life and it never ceases to amaze me how many times I have been asked what I am wearing as it seems everyone loves it. I am concerned that it will one day be phased out for the newer scents. It would be a mistake if it were pushed aside for something new on the market as NOTHING has ever given me the compliments that I continually recive from Interlude. Over the years I must have sent a hundred people looking for it.
Written by Anonymous on July 29, 2015
Read Review details ►
I have been wanting this fragrance for a long time, & I have found it & I will be ordering again, my Aunt used it all the time but now she is deceased, but that is where I first smelled this scent from her & I fell in love with the INTERLUDE!!! Thankx for caring this fragrance!!!
Written by Luv2shopnms on July 12, 2015
Read Review details ►
Interlude by Francis Denney is one of my favorites. I was afraid I wouldn't be able to find it anywhere. My sister had a bottle back in the 70's. It was good staying power. I was delighted to find it.
Written by teacher_karen on February 23, 2015
Read Review details ►