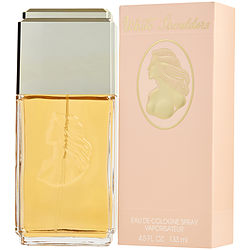 eau de cologne spray 4.5 oz
Free Shipping in U.S. (orders over $59.00)
0
Design House:

Evyan

Fragrance Notes:

classic florals including gardenia, lilac, amber, oakmoss, and jasmine.

Year Introduced:

1949

Recommended Use:

evening
No reviews written for this product
White Shoulders is very soft and flowery....its very pleasant but for me, it didn't last most of the day....I do love the sent but it just wasn't long lasting...what I found to be long lasting with a similar sent was Heaven Sent.....
Written by Anonymous on August 05, 2016
White Shoulders and I met way back in my Junior High school days. At that time it was just the right amount of scent for a young girl and now the right amount of scent for a senior woman. What a happy surprise to find to find it here and many thanks.
Written by L. Miller on December 24, 2015