Pure White Linen
Eau De Parfum
by Estee Lauder

100% Authentic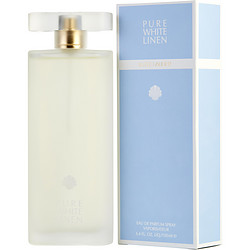 Zoom
Free Shipping in U.S. (orders over $59.00)
Design House:

Estee Lauder

Fragrance Notes:

Raspberry, Pear, White Cedarwood, Patchouli, Heliotropine, Citrus, Iced Rose Tea, Ginger, Apple, White Freesia, Jasmine, Rose Absolute, Cardamom, Red Tulips, Gardenia, Osmanthus, Iris, Honeysuckle

Year Introduced:

2006

Recommended Use:

casual
No reviews written for this product
Pure White Linen is the cleanest sexiest fragrance I have ever worn. It has been my signature fragrance since 2008 when my little sister bought it for me she always gets me the classiest things!! I hate going out without it love it!!
Written by MJ on September 28, 2015
Pure White Linen from the house of Estee Lauder - This fragrance is amazing, i started using Pure white linen in 2011 and till this day, its one of my signature parfumes. My late sister Dzie was the one who introduced me to this House and i just love it. I highly recommend it to any lady out there.
Written by Angel Mtazu on May 28, 2015
Pure White Linen is such a charming fragrance,you'll feel as though you're the belle of the ball once you wear it. It's pretty expensive but then,this is Estee Lauder you're talking about and with decades in the industry,this is what you call Quality. Highly recommended.
Written by Anonymous on May 10, 2015