Eau De Parfum
by Estee Lauder

100% Authentic
Item #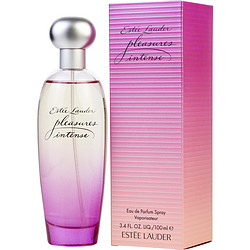 Zoom
eau de parfum spray 1.7 oz
eau de parfum spray 3.4 oz
Free Shipping in U.S. (orders over $59.00)
Design House:

Estee Lauder

Fragrance Notes:

a seductive, extremely lush floral, with low notes of vanilla and maple.

Year Introduced:

2002

Recommended Use:

romantic
No reviews written for this product
Okay, Pleasures Intense is wonderful! My Pastor's wife had it on and it took me back in time, I did not know of this fragrance except it smelled heavenly! It reminded me of L'air du temps forgive the spelling. That was my favorite when I was a teen,Lilies of the Valley, but Pleasures Intense is that and more. I asked her what she was wearing, she told me, ah I said and pondered this wonderful aroma. I went to the Estee Lauder counter and saw so many different Pleasures and thought I'll never pick out the right one, the others smelled nice but as soon as I got that 1st whiff of the Intense I knew immediately that that is the one! Now Im on line looking up the best price for this pricey gorgeous stuff and I'm going to get it. I saved the sample card I got at the Estee counter and Im going to keep inhaling it till I recieve my very own bottle! How's that for a thumbs up?!
Written by Anticipatin on June 12, 2015
I have worn this perfume for 10 years. I don't even try others because I love this so much. I get compliments from strangers anywhere and everywhere I go. I have been stopped by people just to ask what I was wearing. Try it. You will see!
Written by Star on April 20, 2015