Eau De Parfum
by Estee Lauder

100% Authentic
Item #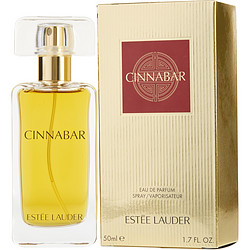 Zoom
eau de parfum spray (new gold packaging) 1.7 oz
Free Shipping in U.S. (orders over $59.00)
Design House:

Estee Lauder

Fragrance Notes:

incense, flowers, spice and amber.

Year Introduced:

1978

Recommended Use:

evening
No reviews written for this product
I began wearing Cinnabar in 1979 and wish that I had known about it when it was introduced in 1978. It is my signature fragrance. Yes, it does have a different odor on each person. And it must be perfect for me. Before we married my husband just loved the fragrance. Another lady where we worked bought it. When she came in it just wasn't right for her. It must be your body chemistry because although it is good on everyone, it is better on some. I'm lucky to be one that it is really great on. I have no reason to ever change unless they completely discontinue it. I also like the lotion and especially the real perfume that hasn't been available for many years. Today the Cinnabar fragrance is not as rich as in earlier years and you can no longer get the perfume. But I still wear it faithfully.
Written by Ann on May 21, 2015
THIS WAS ACTUALLY PURCHASED AS A GIFT FOR ONE OF MY DAUGHTERS, HOWEVER, I HAVE USED THIS FRAGRANCE MYSELF. I REALLY LIKE A SORT OF HEAVY SENSUAL SCENT WITH MYSTERIOUS OVERTONES. CINNABAR IS SOMEWHAT CLOSE TO THAT, BUT A BIT TOO "SPICY" FOR MY TASTE. MY DAUGHTER LOVES IT THOUGH, AND IT SMELLS WONDERFUL ON HER.
Written by S.WAINWRIGHT on May 14, 2015
Cinnabar is my favorite fragrance of all time. I wore it when it first came out in 1978 as my signature fragrance, until they told me it was discontinued. ( Remember the days when you couldn't Google?) finally, I missed it so much that I went online last year just about this time and found it to my great surprise and wonder. I ordered some right away and as soon as I opened the bottle I put it on. It's amazing, but I could actually feel an emotion that I can't put a name to, I only know that when I wear it I FEEL different and more alive and confident. To me, this is a magical fragrance and I will wear it as long as I can purchase it. It may seem too strong for many, but you really have to adjust it to your own body chemistry. It's my birthday next week and I'm getting another bottle. I just finished my bottle from last year, and I wore it almost every single day. Thanks Estee !
Written by Bunny-Christine on 4/1/15 on April 01, 2015