Eau De Toilette

100% Authentic
Item #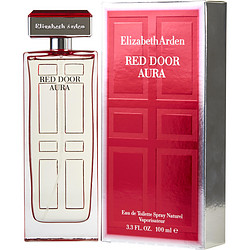 Zoom
eau de toilette spray 1.7 oz
eau de toilette spray 3.3 oz
eau de toilette spray 3.3 oz Tester
Free Shipping in U.S. (orders over $59.00)
Design House:

Elizabeth Arden

Fragrance Notes:

raspberry, bergamot, orange blossom, rose, jasmine, amber, sandalwood, musk

Year Introduced:

2012
No reviews written for this product
My aunt gave me this fragrance for my birthday and I was disappointed at first because I was allergic to Red Door,the original and she had forgotten that. But, silly me, it was a different version and I didn't really notice. Skeptical as I was,I still tried it and it was surprisingly very lovely,lasted long on me and the added bonus?....NO ALLERGIES!! I'm so glad I did not give it away. Best fragrance ever by Elizabeth Arden.
Written by Birthday girl on November 10, 2015
I was recommended this fragrance while I was on vacation in Puerto Rico. I wore it to work when I came back and everyone at work fell in love with it and wanted to know what perfume I had on. I wore it to an elegant evening and again all the ladies wanted to know what I had on. It last a long time and is a very classy fragrance.
Written by Marilyn Trunillo on November 07, 2015
Woohooo,touchdown!!! I've been looking everywhere for Red Door Aura & I'm so happy I found it. I just love that soft,creamy & flowery scent,and the drydown is lovely. I heard it was discontinued for some time now,so I guess I was lucky enough to get a bottle. Elizabeth Arden never disappoints at all.
Written by Perfume princess on August 31, 2015
I wore this lovely fragrance to a movie premiere and it lasted on me throughout the evening. Not overpowering,just right. I really hope that Elizabeth Arden keeps this Red Door Aura scent around for a long time to come.
Written by c on June 10, 2015
red door has always been my favourite perfume . Since high school and now to being an adult I have always loved Red Door by Elizabeth Arden. It's really a one of a kind scent. That makes you feel so Alive and Vibrant . Would not change for anything else thank you guys
Written by Dolly on December 30, 2014