Eau De Parfum

100% Authentic
Item #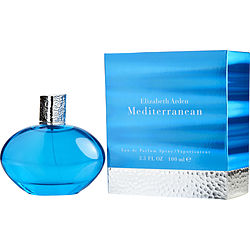 Zoom
eau de parfum spray 3.4 oz
Free Shipping in U.S. (orders over $59.00)
Design House:

Elizabeth Arden

Fragrance Notes:

Mandarin, Musk, Peach Sorbet, Wisteria, Golden Amber, Damask Plum, Orchid, Star Magnolia, Blonde Woods, Sandalwood

Year Introduced:

2007

Recommended Use:

evening
No reviews written for this product
Mediterranean....mild citrus comes through with plum and peach which I like best....and it is floral so go easy on the sprays: it's not intense but it is stronger....walk into a spray or 2 and enjoy.
Written by Fay on November 12, 2015
I discovered Elizabeth Arden's Mediterranean some years ago and loved it. I got so many compliments when I wore it then, but for some reason I couldn't find it again. I was told by every store I went that they did not carry the product. I was so happy when I found it again on this website, and still get a lot of compliments . It has a real feminine flare to it and I love it.
Written by Nads, NY on April 19, 2015
Smells very nice! This is a typical floral scent that can be intense if you spray too much. Sort of citrus and musky as well I prefer to wear this in the Spring/Summer time.
Written by Addicted2Perfume37 on December 28, 2014