Dkny Be Delicious Fresh Blossom
Eau De Parfum
by Donna Karan

100% Authentic
Item #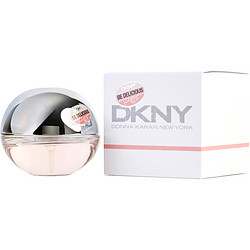 Zoom
eau de parfum spray .5 oz
eau de parfum spray 1.7 oz
eau de parfum spray 3.4 oz
Free Shipping in U.S. (orders over $59.00)
Design House:

Donna Karan

Fragrance Notes:

Apricot, Cassis, Grapefruit, Smooth Skin Accord, Blond Woods, Jasmine, Rose, Apple, Muguet

Year Introduced:

2009

Recommended Use:

casual
No reviews written for this product
This is such a beautiful fragrance. It really is in between flowery and citrus. It is very light and has a clean, refreshing smell. For some reason with my body chemistry, many fragrances that smell wonderful on other women smell terrible on me. This fragrance is perfect. I also have been using the shower gel which is fantastic. It leaves my skin feeling so clean and no dryness. I don't even use lotion after I have bathed with the shower gel. I will be wearing this fragrance for a very long time.
Written by Donna Marie on August 16, 2015
I had fresh blossom in the mini bottle and I'm glad to say that it's a winner. My dentist and his assistants found the office smelled like a field of fresh flowers, but I could not say anything as they were taking out my wisdom tooth. Ouch!! It can even be used for summer too. Dkny,you're the best.
Written by Melanie on May 17, 2015