D & G Light Blue
Eau De Toilette

100% Authentic
Item #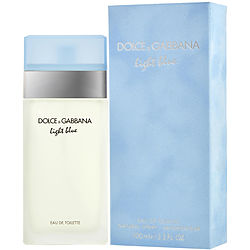 Zoom
eau de toilette spray .8 oz
eau de toilette spray 1.6 oz
eau de toilette spray 3.3 oz
eau de toilette spray 3.3 oz Tester
eau de toilette spray 6.7 oz
Free Shipping in U.S. (orders over $59.00)
Design House:

Dolce & Gabbana

Fragrance Notes:

rose, apple, musk and jasmine.

Year Introduced:

2001

Recommended Use:

casual
No reviews written for this product
This is my signature fragrance. I have used it for years. When I compare other fragrances I always prefer Light Blue. It is light, and even though it seems to wear off others smell it all day long and I receive many comments; they like it or want to know what it is or both. My closet smells faintly of this fragrance since I use it whenever I go out. Sometimes I even use it at home because I love the smell. I have never liked perfume or used it very much until I found Light Blue. I am petite, under 5', over 65, and this cologne suits me best.
Written by Mighty Mouse on November 16, 2015
Light Blue by Dolce & Gabbana is a beautiful, subtle fragrance. I get many compliments on it. It has a fresh smell, very feminine, very good for day or night use. I wish the fragrance stayed longer, it does seem to diminish significantly in a short amount of time **Compared To Other Perfumes. But it's still a beautiful & fresh fragrance.
Written by Jolynn on November 16, 2015