Eau De Parfum
WFor Women
Item #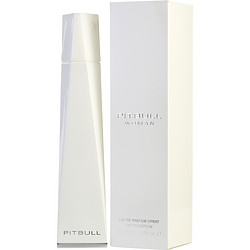 eau de parfum spray 3.4 oz
eau de parfum spray 3.4 oz Tester
Free Shipping in U.S. (orders over $59.00)
No reviews written for this product
Pitbull Woman is my new favorite perfume! I was looking for something new and different. After Christmas I picked up a box of small sampler perfumes. Out of the 8 choices, I immediately fell in love with Pitbull's scent! It is sweet, fruity, and sexy of course because it's Pitbull!
Written by South Beach Vacationer on May 23, 2015
Read Review details ►
I heard people say that Pitbull was coming out with a fragrance and I thought it might be interesting. With so many celebrity fragrances out there,It's quite overwhelming. But not this fragrance! It's a light floral with some subtle fruity notes,and I think it's great for all ages.
Written by Anonymous on May 21, 2015
Read Review details ►
Before Christmas I had gone to a perfume store and asked the sales lady her recommendation for a light but sweet fragrance. She recommended Pitbull Woman and I LOVE IT!!! It's fresh, clean, flowery, sweet and the scent lasts all day for me. It's my new favorite perfume!!! Highly recommend it for any age.
Written by Christine on December 31, 2014
Read Review details ►