Eau De Toilette

100% Authentic
Item #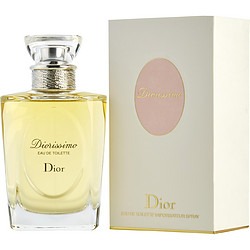 Zoom
eau de toilette spray 3.4 oz
Free Shipping in U.S. (orders over $59.00)
Design House:

Christian Dior

Fragrance Notes:

jasmine, lily of the valley and ylang-ylang.

Year Introduced:

1956

Recommended Use:

daytime
No reviews written for this product
I've worn Diorissimo since I was in my 20's and I'm now 79! I couldn't find it for years and was so thrilled when I discovered I could get it on your site. Just the other day I was in a restaurant and the hostess asked me what perfume I was wearing as she thought it was wonderful. I was happy to tell her where she can get it.
Written by Jillian on October 22, 2015
This perfume is the essence of class, glamour and elegance. Invented back in the late 50's, it never goes out of style. And as elegance goes with elegance, Grace Kelly wore this remarkable fragrance that is just perfect for the right person. Not for the young but the classy mature woman and definitely not over powering. I am stocked up and I never tell what I am wearing. That is my secret.
Written by Nancy Ann on August 08, 2015
Diorissimo is in my opinion the only perfume on the market that captures and hold the real scent of Lily of The Valley enough to represent it upon the any woman and make her feel Elegant and Special at any time of day or night.
Written by Linda Allskog on July 25, 2015
This was the first "grown-up" fragrance I wore as a teenager. Eventually, it became impossible to find until I found it at Saks and, thankfully this site. It still is as timeless and lovely as I remember it to be in my late teens/college years. Thank you Fragrance Net!!
Written by Carolyn on March 05, 2015