Eau De Toilette
by Calvin Klein

100% Authentic
Item #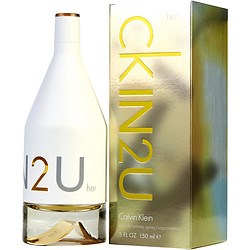 Zoom
eau de toilette spray 3.4 oz
eau de toilette spray 5 oz
Free Shipping in U.S. (orders over $59.00)
Design House:

Calvin Klein

Fragrance Notes:

Red Cedar, Bergamot, Red-Currant Leaves, Grapefruit, White Cactus, Orchid Sugar, Neon Amber, Vanilla

Year Introduced:

2007

Recommended Use:

evening
No reviews written for this product
Love it. I first tried it when it came out, I bought a couple of bottles, thinking it would be around for a long time. Not so, I can't find it anywhere except here. Thanks for having it in stock. Great scent, everyone in the office compliments me when I wear it.
Written by Angela on August 06, 2015
Ckn2u is amazing! I wear it all day everyday. The scent is strong, but not overpowering, and it lasts all day. Everyone at work says they know when I get there, they can smell me coming in! They use my perfume all day, and even the men come to me and say and say they love my perfume! U will not regret it!
Written by Anonymous on May 03, 2015
in2U by CK I am a perfume connoisseur, I always get tons of compliments on my choices, and they are always memorable. Sometimes I even make my own! In2U is very nice, medium headiness, yet a fresh tanginess with warm romantic under notes. It is fresh, romantic, dreamy. Elegant enough for evening and intimacy, fresh enough for an outing to the beach. I have used many perfumes in my 50 plus years of wearing it on a daily basis, and I can instantly recognize the most memorable ones, and recall the compliments they brought me. I rank In2U right up there in my top 10 all time loves in the perfume world!
Written by Anonymous on March 13, 2015