Eau De Parfum
by Calvin Klein

100% Authentic
Item #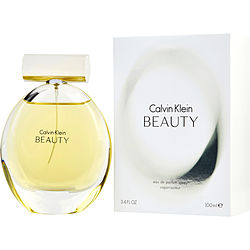 Zoom
eau de parfum spray 3.4 oz
eau de parfum spray 3.4 oz Tester
Free Shipping in U.S. (orders over $59.00)
Design House:

Calvin Klein

Fragrance Notes:

calla lily, cedar base, jasmine, and ambrette seed

Year Introduced:

2010

Recommended Use:

casual
No reviews written for this product
I have been using this purfume for quite some time. It has a very good smell that keeps on me all day. I get alot of compliments at work ,or any way I go , My kids love to hug and smell me. I guess the smell speaks for itself. I couldn't afford it anyway else. Thanks fragrance. com for the affordable price on the fragrance we love. My son and daughter, friends and family also buy from your website. I never heard of a complain. Thanks again.
Written by Beauty,Eternity, Issy mI ackki the Bleu one on October 08, 2015
I love the smell. I'm very sensitive when it comes to fragrances as most strong perfumes give me migraine. Calvin Klein Beauty has the right amount of sweetness that last throughout the day.
Written by Wonder Woman on July 07, 2015