Eau De Parfum

100% Authentic
Item #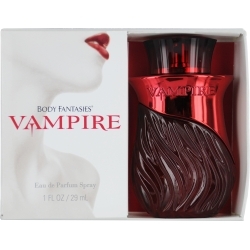 Zoom
Free Shipping in U.S. (orders over $59.00)
Design House:

Body Fantasies

Fragrance Notes:

Clementine, Plum Blossom, Violets, Mexican Chocolate, Wisteria, And Amber.

Year Introduced:

2011

Recommended Use:

casual
No reviews written for this product
Body Fantasies Vampire starts out strong but when it dries it becomes mildly sensual. Was in stores for only a short time. This is the only place I can find it at a decent price. It's the best!
Written by Di on September 29, 2015
My favorite fragrance! I first bought for my daughter for Christmas because she is into vampires. I tried it once and was hooked! When I buy for myself I make sure to get her some as well! Highly recommended!!
Written by Monica on February 19, 2015
I love the Vampire scent. Had a hard time finding it in the stores in my area and was so pleased to find it online! Makes me feel beautiful when I wear it and my husband likes it too. :-)
Written by Anna on January 06, 2015
I have lupus and other autoimmune disease . This purfume VAMPIRE is so seductive , intense , makes you feel beautiful . I'm so happy that I can wear this wonderful sent . I just love it. Try it you will love it too. I will order this again and again. Thank you fragrancenet .com My name is Kathleen
Written by Kathleen on October 02, 2014