Eau De Parfum
by Alfred Sung

100% Authentic
Item #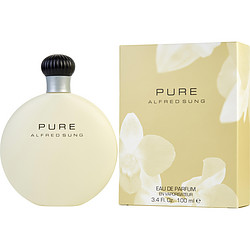 Zoom
eau de parfum spray 3.4 oz
Free Shipping in U.S. (orders over $59.00)
Design House:

Alfred Sung

Fragrance Notes:

a floral blend of white and orchid blooms, with light woods.

Year Introduced:

1997

Recommended Use:

daytime
No reviews written for this product
Alfred Sung Pure has been my favorite perfume since 1998. I always go back to this one after using other fragrances. It is a green floral with a stand out note of lily of the valley. It makes me feel fresh and clean all day long. Not many know about this fragrance, so if you are looking for a perfume that can be worn all year round, and one that not everyone else will be wearing, Pure is a good one to try.
Written by JB on November 10, 2015
I used to wear this fragrance a long time ago. When I couldn't find it anymore, I went on to something else. I was very pleasantly surprised to find that FragranceNet had it. I immediately purchased it and love it just as much as I used to. It's soft and subtle, smells wonderful and yet lasts all day. It's the perfect perfume for just about anyone. Glad that it's back on the market!
Written by Dee on August 05, 2015
Wow,I haven't seen Alfred Sung's Pure perfume in a long while. It was discontinued and then came back for a short period of time only to be discontinued again. The bottle resembles one of those vintage 50's/early 60's type fragrances you would see on your mom or grandma's dresser. The scent is so lovely and inoffensive that you can use it anytime. I should have bought the bigger bottle. Maybe next time.
Written by Oh Canada on May 11, 2015