Eau De Parfum
by Adam Levine

100% Authentic
Item #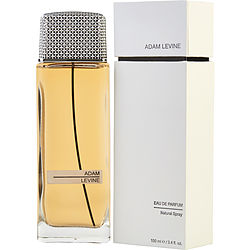 Zoom
eau de parfum spray 1.7 oz
eau de parfum spray 3.4 oz
eau de parfum spray 3.4 oz Tester
Free Shipping in U.S. (orders over $59.00)
Design House:

Adam Levine

Fragrance Notes:

saffron, citruses, marigold, spices, indian jasmine

Year Introduced:

2013
No reviews written for this product
I love Adam Levine Eau De Parfum, and I wear it everyday, because I go out shopping and both Men and women stop me and ask me what it is I have on, and tell me I smell wonderful, and I am a 66 yr. old woman so that makes my day, and Adam Levine makes my life Beautiful, Thank You ADAM LEVINE! ps. I LOVE your Music too!
Written by Arizona Suzie on November 11, 2015
Yes, Adam Levine fragrance is great. It start out strong for the first few minutes but soon calm down. It is a creamy and sensual scent, at least to me it is. I also think it is a fall/winter scent but I love it so much that I wear it any time day or night. I think its smells similar to Estee Lauder Sensuous. I would recommend it to anyone. It really is a lovely scent.
Written by Quesha on September 03, 2015
My sister recommended this to me, so I purchased without first trying it. The minute I got into my car, opened up the box and sprayed it. I must say I really, really like it. Got home and sprayed it all over me, my clothes and I just keep sniffing it. It's got everything, spice, flowers, fruit. What more could you want. As someone else said, it starts out strong, but it really softens and the flowers come out to play, after the fruit dies down a bit. Great score.
Written by Becky J. on May 31, 2015
ADAM LEVINE eau de parfum is a wonderful fragrance! It's spicy, crisp, floral, and sophisticated. Its scent really throws, so a little goes a long way. I think it's great for everyday use, as well as for special occasions. As it sits on your skin, you can really differentiate between the delicate notes and it lasts for hours! I went to bed with it on and woke up still smelling it. It smells very high-end like a designer fragrance; definitely a cut above most celebrity scents! It's a mature scent, but I think it would suite women of all ages, depending on her preference of scents. Bottom line, if you like elegant, seductive scents, I would highly recommend this. You don't even have to be a fan of Adam Levine to appreciate this fine fragrance, but it certainly wouldn't hurt.
Written by Kris K. on May 22, 2015