Eau De Parfum
WFor Women
Item #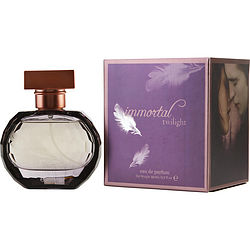 eau de parfum spray 1.7 oz
Design House:

Twilight Beauty

Fragrance Notes:

Citrus, Chamomile, Musk, Amber, Sweet Peony And Freesia.

Year Introduced:

2011

Recommended Use:

casual
No reviews written for this product
Didn't even know this scent exists. I'm a big fan of Twilight and Loved the box its self. When I received it I was shocked at the beauty of not only the box and the bottle but the scent was fabulous as well. Love the etched feathers on the bottle. Perfect for anytime.
Written by Rhonda IA on May 03, 2015
Read Review details ►
Immortal Twilight I'm not much for perfumes, but I really do like this one. It's a nice scent. Not overpowering...Not too much of one thing.
Written by Anonymous on April 21, 2015
Read Review details ►
I love the Immortal Twilight cologne! Very light and perfect for daytime. The price was exceptional for this size bottle!
Written by Aytene on September 11, 2013
Read Review details ►
Just discovered all things Twilight - I purchased for just for the beautiful box not knowing anything about the fragrance - I was very surprised - this may replace my Channel for every day wear - It is long lasting and a wonderful perfume. Love it!
Written by Pamela on May 08, 2013
Read Review details ►
This is a very nice fragrance, I would definitely buy it again.
Written by Stacie on March 22, 2013
Read Review details ►