Body Milk
WFor Women
Item #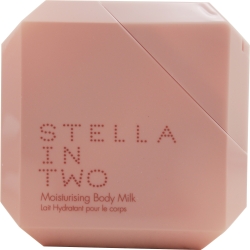 Design House:

Stella Mccartney

Fragrance Notes:

Black Pepper, Amber, Floral Breeze, Rose, Pink Peony, Cedar, Patchouli

Year Introduced:

2006

Recommended Use:

casual
No reviews written for this product
Stella McCartney in Two review: First of all my husband does not like any perfumes I have tried so far, (and I think I've tried them all,) he always complained that they were too strong so I kept trying out subtle ones. I chose this one because I like her orginal perfume. This is not a meek perfume by any means but my husband goes crazy over it. Loves loves loves it. I do too. So unique, you will not smell like anyone else.
Written by Susan B. on November 28, 2010
Read Review details ►
I don't like a lot of scents, but this is my third order of Stella In Two. Simply lovely and I get a lot of compliments on it.
Written by gt on September 21, 2009
Read Review details ►
Absolutely love this fragrance. I've worn it to work, especially out to on the town, fresh, clean, all night!
Written by pocohantas on January 26, 2009
Read Review details ►
I have been through 3 bottles of this fragrance since I started wearing it. I get so many compliments on it, I never get tired of it, and I just feel good in it!
Written by Anonymous on October 29, 2008
Read Review details ►