Eau De Parfum
WFor Women
Item #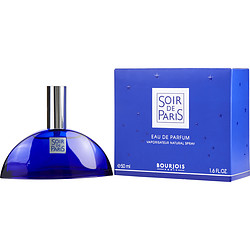 eau de parfum spray 1.6 oz
Design House:

Soir De Paris

Fragrance Notes:

the classic scent of roses, ultra feminineand romantic.

Year Introduced:

1928

Recommended Use:

evening
No reviews written for this product
Ladies, the reason so many of you are noticing that this doesn't smell like your original Midnight in Paris is because Midnight in Paris is a relatively new fragrance by Van Cleef & Arpels. This is Soir de Paris by Bourjois -- EVENING in Paris, and is an old, old standard. Floral with bergamot, apricot and peach, green notes and violet; a classic from the late 1920s that has, I believe, withstood the test of time.
Written by Bedhead on February 14, 2014
Read Review details ►
Soir de Paris definitely does not have the same fragrance as the original Midnight in Paris. It has kind of a nice smell, but not anything like I remembered from the 50's.
Written by Katt on July 30, 2011
Read Review details ►
Soir de Paris: I bought it thinking the scent would be the same as the original scent of the 1930's to 1960s. Unfortunately it was not so it was rather disappointing. I wish they'd brin the original scent/perfume back.
Written by Mervette on July 10, 2011
Read Review details ►
Soir de paris or as it used to be known as (midnight in paris) is a beautiful perfume that my mother who is now 73 bought as a teenager from woolworths it was all the rage in the 1940s and was taken off the market. When I found this perfume my mom cried as she was so delighted it reminded her of when her and my dad were dating and it still smells the same and the bottle is the same cobalt blue glass just the lid has changed. thankyou for bringing back some wonderful memories xx
Written by elaine on July 29, 2009
Read Review details ►
My mother used to wear it and she always smelled so beautiful, it brings me memories from my childhood.
Written by Anonymous on April 28, 2009
Read Review details ►