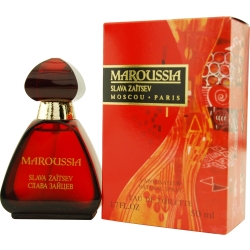 Design House:

Slavia Zaitsev

Fragrance Notes:

a fresh floral, with sweet amber notes.

Year Introduced:

1992

Recommended Use:

evening
No reviews written for this product
Maroussia is absolutely the most wonderful,sensual fragrance! When you wear this fragrance your husband or boyfriend will follow you anywhere! It is the most wonderful perfume I've ever worn! And the discount price makes it a great purchase! Maroussia is a wonderful fragrance for Valentine's Day!
Written by Marianne~Georgia on February 05, 2015
Read Review details ►
I have been wearing this perfume since 1998 and I love it very much. The price is pretty reasonable anywhere in the world you get. Friends ask me what scent it is. I have been wearing it for long now that my children identify me by the scent.
Written by Alison on January 21, 2014
Read Review details ►
I LOVE Maroussia and have been wearing it for over 20 years. It is subtle yet exotic. I lost count years ago of the number of compliments I have received from it. It is my all time favorite fragrance.
Written by Karen on December 19, 2013
Read Review details ►
I love this perfume, I have worn it for years, and always get compliments when I wear it.
Written by modwena on June 01, 2013
Read Review details ►
Just found a new scent that I love! People are asking me "What are you wearing"! I'm loving it.
Written by Faye on January 21, 2013
Read Review details ►