Eau De Parfum
by Scaasi
WFor Women
Item #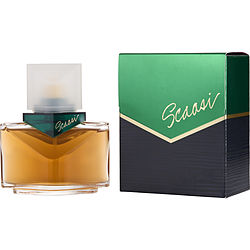 eau de parfum spray 1.7 oz
Design House:

Scaasi

Fragrance Notes:

delicious greenery, citrus, aromatic florals, vanilla,musk

Year Introduced:

1989

Recommended Use:

casual
Scaasi is such a vibrant and unique fragrance that it only takes a dab to add magic to any occasion. If you believe that every day should be a little more exotic, then this vividly feminine fragrance is your solution. Originally introduced by Scaasi in 1989, this women's perfume is suitable for casual use and is equally captivating in the evening and the daytime. Notes of greenery, citrus, and bold florals all intermingle, creating an evocative bouquet of scents.
No reviews written for this product
Scassi is my all-time favorite. Availability has been very limited for more than seven years. It's a good, strong fragrance for business occasions, dining out,attending theater, symphony, etc. for mature ladies over age 30
Written by CDC on May 11, 2010
Read Review details ►
Love it, love it some much so I bought a scassi fur coat! When arwe you getting back in stock??
Written by Anonymous on October 08, 2009
Read Review details ►
I love it! Although it is not for everyone--certainly not heavy handers/sprayers, for it only takes a dab! I wld also buy it in every form--to layer the fragrance. It has always been a challenge to find it, which makes it sweeter to find it here!
Written by floralfraglover in Denver on July 08, 2008
Read Review details ►
I fell in love with SCAASI the first time I smelled/bought it. I wish I could SCAASI in the body lotion, bath gel and lotion form.
Written by L. Black on November 20, 2006
Read Review details ►