Shower Gel
by Realm
WFor Women
Item #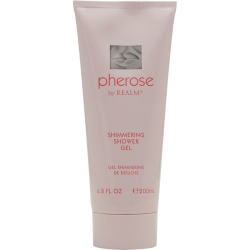 shimmering shower gel 6.8 oz
Design House:

Realm

Fragrance Notes:

a sultry mix of roses, sage and peony, blended with pheremone, musk and oakmoss.

Year Introduced:

2003

Recommended Use:

romantic
Pherose, designed by Realm, combines a sizzling mix of scents, resulting in a romantic women's perfume. Introduced in 2003, a sultry blend of roses, sage and peony combined with pheremone, musk and oakmoss create an aroma perfect for an evening out. When you spray on this perfect flowery fusion, you'll turn heads without coming on too strong. You can be sure that you will confidently take on the night when wearing this lovely scent.
No reviews written for this product
I've been wearing Pherose for almost a decade now and my man told me yesterday, ignorant to the fact that I was wearing it, "This is how a woman should smell." It lifts my mood every time and my only complaint is that I feel the need to re-apply every 4 to 5 hours.
Written by elivnitup on August 01, 2012
Read Review details ►
Pherose is a subtle fragrance that can be worn at any time and under any circumstances. It is long-lasting and not overpowering.
Written by Irene Peters on February 22, 2010
Read Review details ►