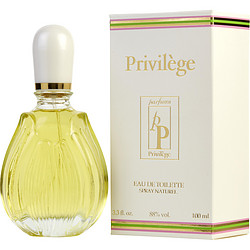 Design House:

Privilege

Fragrance Notes:

floral jasmine, and exotic fruits.

Year Introduced:

1986

Recommended Use:

casual
No reviews written for this product
I have been using Privilege for years and have never tired of it. I get compliments daily. It is a beautiful sophisticated fragrance that last for hours. I have a real problem with most fragrances , my eyes tear, my throat feels as if it was closing. But not with this. I wish they would make the powder and body lotion again. But sooo thankful Fragrencenet carries this! This site is a blessing to me and everyone!!!Thank you so much for carrying this Fragrence!!!
Written by Kathymac on February 22, 2015
Read Review details ►
Privilege is a feminine, clean, fresh scent that lasts all day. If "happiness" we're a scent, it would be Privilege.
Written by Jean Frost on January 12, 2014
Read Review details ►
I have worn this cologne for close to twenty years. I baby sat for years....my kids had me spray their sleeping buddies, so it would smell like their Ruby. Best cologne that I have ever worn. I never get tired of MY cologne. LOVE LOVE LOVE Privilege ..
Written by Ruby on October 26, 2012
Read Review details ►
I love Privilege. I've been wearing it close to 20 years and always get so many compliments from men and women.I was going crazy when the two main department stores quiet selling it but so grateful you have it. Thanks a million
Written by nana b on July 24, 2012
Read Review details ►
One of the best smelling purfumes I have ever worn and believe me I have worn alot of different fragrences. Fresh and elegant. When I ware this fragrence I feel elegant, but this cologne can be worn anytime day or night to any occasion. I recommend it highly.
Written by Claudette on July 21, 2012
Read Review details ►