Fragrance Spray
WFor Women
Item #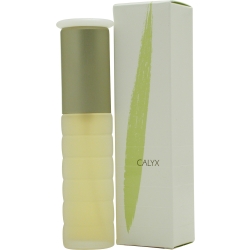 Design House:

Prescriptives

Fragrance Notes:

a fruity bouquet of guava, papaya and passion fruit with a citrusy blend. Middle notes are flowery, including jasmine, marigold

Year Introduced:

1986

Recommended Use:

daytime
No reviews written for this product
Calyx is a crisp, fresh anytime wear scent & I love it! I first smelled this in the late 90's at the Prescriptives counter when I worked at a Hetcht's department store, so I was very pleased to see that it is back & that Clinique now covers it...I definitely recommend this fragrance!
Written by Tamia on March 03, 2015
Read Review details ►
I really love calyx it smells great!, and I get alot of compliance on it I have a problem finding it! Why is that? Glad I I find it here. Thanks.
Written by gail on December 14, 2014
Read Review details ►
My favorite scent. My wife has been wearing it for years but it is getting hard to find. I was glad to see that you carry it.
Written by oldualer on June 04, 2014
Read Review details ►
Calyx is The ONLY fragrance I wear! I NEVER fail to get " oh my a God, you smell so good!" People start sniffing me like dogs ;)
Written by Tiffany Story on June 03, 2014
Read Review details ►
Calyx!!! I've been wearing this scent since 1986--love it! It's so hard to find so thank you, Fragrancenet, for keeping it in stock. I love that it's not a recognizable by many and always complimented on the scent. I like not smelling like the typical fragrances-- Men especially seem to love the fresh smell. I was walking to my office last week and the man behind me ran up to me to ask what I was wearing. :-)
Written by Calyxgirl on April 23, 2014
Read Review details ►