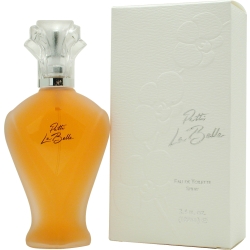 Design House:

Patti Labelle

Fragrance Notes:

Casablanca Lily, Vanilla Orchid

Year Introduced:

1996

Recommended Use:

daytime
Patti Labelle by Patti Labelle is a lovely daytime scent made for women. It features a blend of white floral, gardenia, lily, plum, coconut, tangerine, orchid and musky scents to bring out the beautiful smell of each note, without any of the notes seeming overpowering. First introduced by Flori Roberts in 1996, this scent has fragrance notes that complement one another to create a lovely fragrance that can easily become any woman's daily signature scent.
No reviews written for this product
Patti LaBelle Signature I Love this scent! You can wear it day or evening. Everybody wants to know what is this scent that I am wearing I tell the Patti La Belle signature my female friends and co workers say they have to buy It! Many compliments!
Written by AVI on May 18, 2014
Read Review details ►
I love the Patti LaBelle Signature fragrance. It is subtle, sexy, pleasant, elegant... It is longlasting and my husband loves it. He was the one who introduced it to me for a gift one Christmas some years ago.
Written by Elder Cheryl on January 23, 2014
Read Review details ►
Of all the perfumes I've tried, I keep coming back to this one. It's classic. I get compliments when I wear it.
Written by Thelchal on April 03, 2013
Read Review details ►
Patti La Belle signature is the perfect scent for me since1990 when my husband first bought it for my bithday and I've loved it ever since . The scent is very soft and subtle for all day wear and I get compliments from both men and women and I can't go without it.
Written by Josie on August 18, 2012
Read Review details ►