Eau De Parfum
by Nelly
WFor Women
Item #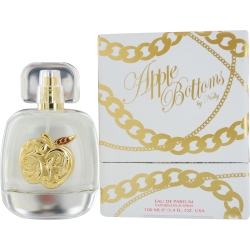 Design House:

Nelly

Fragrance Notes:

citrus, pink peony and coconut with musky base notes of sandalwood, amber and tender apple

Year Introduced:

2009

Recommended Use:

casual
No reviews written for this product
It smells really good in the bottle, I have not had the chance to wear Apple Bottoms yet. I plan on wearing it soon, it smells like one of those perfumes that will get you a lot of attention.
Written by Anonymous on February 15, 2015
Read Review details ►
This is a delicious, apple, floral scent, not a citrus one, strictly feminine, the kind men will tell you will inspire them to want to take a bite out of you! Reminds me of night clubbing back in the day (late 80's into early to mid 90's) because it's got that tasty drink flavor plus a slight sweaty musk to it. Not over-powering, just right. When I wear it, I feel like a club kid again. People comment that it smells sexy. Wish I could find a whole bottle of it!
Written by Valentina on July 06, 2014
Read Review details ►