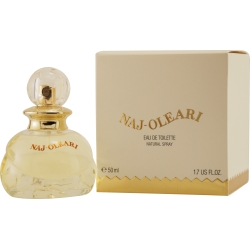 Design House:

Naj-Oleari

Fragrance Notes:

Rose, White Musk, Sandalwood, White Freesia, Jasmine, Muguet, Coriander Cedarwood, Vanilla

Year Introduced:

1999

Recommended Use:

casual
Naj Oleari creates an aura of quiet, self-assured elegance, relying on a blend of floral and woody notes to command attention. Launched by Naj-Oleari in 1999, this women's perfume starts out with a contrast between feminine, spicy coriander and a layer of bright aldehydes. Traditional heart notes of jasmine and rose bloom against a base of warm vanilla and the evocative scent of cedar. Inviting and sophisticated at the same time, Naj Oleari is ideal for casual use.
No reviews written for this product
Iwas lst introduced to this beautiful fragrance as the store selling was no longer going to so price was brill. No matter how many u try, get whiffs of fragrances from other woman i truely cannot find the warmth,intoxicating heady fragrance like this has, also i beleve it is no longer availavle in the uk. It took a while to get narj Oleari to speak the name correctly, but that didnt stop a lot of prople havin a great laugh, but also interest in just what makes this fragrance a hot spot but difficult one to find! hot spot to find. I cant wait to place my order and feel surrounded by warmth and serenity
Written by mrs Jacqui GIORGI on September 13, 2009
Read Review details ►
this is the most beautiful fragrance ive ever had, i love it so much, it is a very refined elegant ladylike fragrance. most people dont know about it which makes it my secret!
Written by loulou on July 22, 2008
Read Review details ►