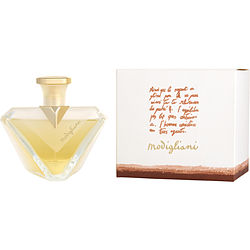 eau de parfum spray 3.4 oz
Design House:

Modigliani

Fragrance Notes:

ylang ylang, jasmine, mandarin, vanilla, orange blossom, honey, cananga, patchouli, bergamot, cedar, musk, and benzoin.

Year Introduced:

1994

Recommended Use:

casual
No reviews written for this product
I received more compliments wearing Modigliani than any fragrance I have ever worn. Everyone asks what it is. First purchase was from a perfume counter in the mall when I sampled it. It is now my favorite.
Written by j bright on April 23, 2010
Read Review details ►
My daughters gave me Modigliani about ten years ago and I absolutely love it. I still am amazed that they could pick a scent that is so perfect for me! I wear it all day, for a special night out and just for fun. Its not overpowering, but still long lasting. It has become basically my signature scent.
Written by Chris W on February 24, 2010
Read Review details ►
I found a bottle of this perfume last year at my mothers home after she passed away. I had never smelled it before and was about to throw it away. I decided to spray a little on and I have been wearing it ever since. I LOVE THIS FRAGRANCE.
Written by Carol W. - Houston TX on December 07, 2009
Read Review details ►
This is a great scent it is attractively sensual and at the same time refreshing. People do comment about the scent. You can wear it all day. Long lasting, this should not be for under 18 years of age. Modigliani is truly a scent they will remember you by.
Written by Isabel on January 30, 2009
Read Review details ►
This is the only perfume I wear. I love it and wear it every day. Everyone compliments me on the scent!
Written by Anonymous on March 06, 2007
Read Review details ►