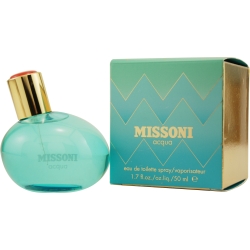 Design House:

Missoni

Fragrance Notes:

Melon, Bergamot, Narcisse, Tuscan Iris, Grapefruit, Jasmine, Freesia, Muguet, Violet, Peony

Year Introduced:

2007

Recommended Use:

casual
Add the fresh scents of summer to your days with Missoni Acqua by Missoni. This unforgettable fragrance blends melon, bergmot, narcisse and Tuscan iris with the fresh, bright scent of grapefruit. The soft aromas of jasmine, freesia, muguet, violet and peony finish the blend for a gentle result. Introduced in 2007, this fragrance for women is perfect for casual use. Apply it to your skin before running errands or having lunch with friends, and enjoy the refreshing burst of energy it brings.
No reviews written for this product
I LOVE this scent and can't find it anywhere. PLEASE let me know when it it back in stock. I have not been able to find anything even close to this.
Written by My Scent on August 23, 2013
Read Review details ►
I bought this in England before it was available in the US and I have been receivng compliments for years! I have other perfumes but when I want to stand out - I wear this! I love it, my 22 year old daughter loves it and my 79 year old mother loves it!
Written by Anonymous on October 30, 2011
Read Review details ►
when i ordered this perfume i was so impressed with the fragrance that i immediately ordered two more bnefore they were all gone its not too loud and heavy its just what i like any one would like it
Written by josie hempstead on September 12, 2011
Read Review details ►
Wow - this is the most unique fragrance I have ever owned - kind of reminds me of chocolate and cucumber combined. It is a very fresh, upbeat type fragrance which lasts all day without being overpowering.
Written by Claire on February 19, 2011
Read Review details ►