Eau De Parfum
WFor Women
Item #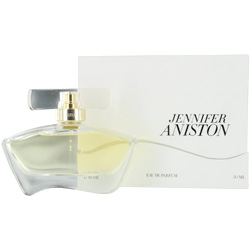 eau de parfum spray 1.7 oz
eau de parfum spray 2.9 oz
eau de parfum spray 2.9 oz Tester
Design House:

Jennifer Aniston

Fragrance Notes:

jasmine and musk

Year Introduced:

2011

Recommended Use:

casual
No reviews written for this product
LOVE this fragrance.....not over-powering. Perfect for everyday. One of the best celebrity designed scents. I've used the shower gel and the body lotion, too. Thank you, Jennifer
Written by Babs on April 19, 2014
Read Review details ►
Flowery, but not overpowering. I usually am not into crazy floral scents. I found Jennifer Aniston perfume does stay, although it does get more subtle. Recommend for a casual, fun everyday fragrance.
Written by MeganB on April 07, 2014
Read Review details ►
I've just started using Jennifer Aniston perfume about a year ago and I really do like it. It has become one of my favorites. I doesn't last as long as I would like it to, but I find if I put it on right out of the shower, it seems to last longer (not sure if it has to do with the pores in our skin or not, but that's what works for me). I will continue to use this perfume and it is priced right. Thanks Jen!
Written by Shelia on January 28, 2014
Read Review details ►
Jennifer aniston perfume is lovely. I also like Joy by Pateau and this has some similar notes and is more casual. It's a nice ocean and jasmine scent. It's the best celebrity fragrance I've seen.
Written by Anonymous on January 22, 2014
Read Review details ►
I love this fragrance but I agree with many of the reviewers here, I would love it more if it lasted longer. Jennifer should have formulated it with more fragrance oil instead of alcohol. The scent disappears too quickly. But it does smell wonderful!
Written by Romancegirl on December 28, 2013
Read Review details ►