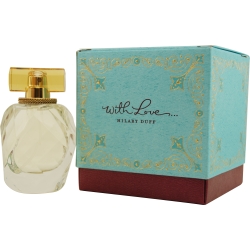 eau de parfum spray .5 oz
eau de parfum spray .5 oz Unboxed
Design House:

Hilary Duff

Fragrance Notes:

Milk, Fruit, Mangosteen, Musk, Flower, Exotic Spices, Amber, Cocobolo Wood

Year Introduced:

2006

Recommended Use:

casual
Hilary Duff ventures beyond acting and performing pop hits with a fresh scent called With Love Hilary Duff, a casual fragrance for women. Introduced in 2006, this flowery fragrance combines fruit, milk, mangosteen, flower, musk, amber, exotic spices, and cocobolo wood for a unique perfume that's perfect for women of all ages, including teens. When you're ready to steal the show, apply this floral scent liberally, and enjoy hours of long-lasting fruity and flowery fun.
No reviews written for this product
This is one of my all time favorite scents ever! I labeled it as oriental/spicy, but it's also warm, soft, and sweet. It has the best balance and I have never found a fragrance like it before. Not only is the packaging lovely and well thought out, but it looks and smells much more expensive than it is. I will weep if the day comes where I can't find this scent anymore. I hope it's never discontinued. Just buy it. I promise if you love vanilla, sandalwood, amber, and sweet/light floral scents, then this is the one for you :D
Written by Ashley on November 02, 2013
Read Review details ►
To preface, there isn't another perfume in the class/genre of Dior Dune that can hold a candle to it. With Love Hillary Duff is what I would recommend to someone who didn't want to pay the higher price of the Dior Dune but likes that type of woody fragrance. This one is not as dry and complex, but is a good fragrance. I'm impressed that this celebrity fragrance embraced something off the beaten path of fruity florals. I recommend this fragrance. It may not appeal to teens, though the celebrity name would make you think so. The bottle's very pretty also and looks like a pineapple etched glass of sorts. It's got some sweetness to the woody scent. I recommend it and it's in a good price range.
Written by Anonymous on June 29, 2013
Read Review details ►
I just love this perfume I wear it to work and all day long everyone asks what I am wearing they say it smells so good. I bought the big bottle of it and at a good price. I love the prices and the free magazines it is better than going out shopping and paying to much!
Written by Jennifer Cummings on January 08, 2013
Read Review details ►
It was a gift to someone. She was delighted to get it. All last purchases were gifts.
Written by Anonymous on December 27, 2012
Read Review details ►
Again the first time i tried this one was in a sample form-there was this note that stood out that i just couldnt identify. it smelled strange to me-I tried it again and waited for the dry down...it is so nice-i am assuming that the note i couldn't identify is mangosteen since i've never had a scent with it in there and when i checked for the notes of the scent it was the only one i didnt recognize. Needless ti say i LOVE the mango steen in it now and are trying to find more frangrances with it and i'm curious to see how it smells in others-A man said to me the other day, "You smell so damn good!!" I get compliments all the time. i usually find that celebrity scents smell cheap but this is so elegant and has so much depth-the dry down is FANTASTIC!! Had to get the FB of it.
Written by Jennifer on December 07, 2012
Read Review details ►