A Set Of 7 Cosmetic Brushes In A Purple Carrying Case
WFor Women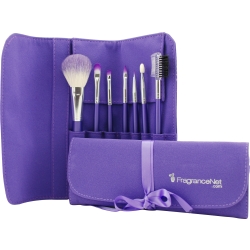 No reviews written for this product
I have been wearing Y for about 30 years now and have yet to find another perfume that I like . I wear it all day and all night. I get lots of compliments from both men and women at how lovely it smells. They used to make a cream perfume as well but I have not seen it for years, this was great for layering. I don't mean the lotion.
Written by Carol G. NZ on June 10, 2013
Read Review details ►
I LOVE this brush set and the holder is so cute!
Written by Bren Lee on February 18, 2013
Read Review details ►