Shower Cream
by Clarins
WFor Women
Item #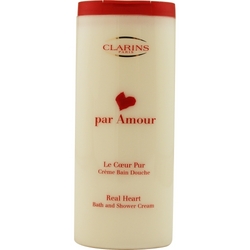 Design House:

Clarins

Fragrance Notes:

Black Currant, Pink Pepper, Sandalwood, Siamese Benzoin, Ottoman Rose

Year Introduced:

2005

Recommended Use:

casual
No reviews written for this product
I use many of Clarins products but only discovered Par Amour Eau de Parfum a few years ago when I was given it for my birthday. I love the subtle floral scent that is, in my opinion, suitable for everyday. It lasts for about 6-8 hours, What I also liked was that the 100ml bottle was refillable but sadly as I was nearing the end of my bottle I discovered that I could neither buy the 100ml nor refills at Clarins counters near where I live in Ireland. I searched the internet and found a stockist and a brilliant price - even with postage added. Delivery only took about a week. I am absolutely delighted with FragranceNet .com
Written by Chris on September 17, 2010
Read Review details ►
Lovely fragrance. Perfect for anytime, any ocassion, any woman! I love it!!
Written by Elizabeth on July 20, 2010
Read Review details ►
Par Amour has a lovely light scent. It is the only perfume I wear. I always receive compliments.
Written by Anonymous on March 21, 2010
Read Review details ►
Clarins Par Amour was actually a Valentine's Day present several years ago - THE BEST! I get so many compliments from men...and it seems to smell the best during the winter time. The smell is rich and expensive smelling.
Written by Cristina on January 28, 2010
Read Review details ►