Eau De Parfum
by Borghese
WFor Women
Item #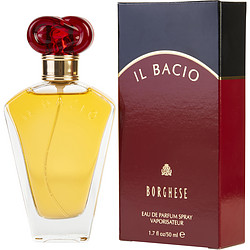 eau de parfum refill .4 oz
eau de parfum spray 1.7 oz
eau de parfum spray 3.4 oz
Design House:

Borghese

Fragrance Notes:

plums, peaches, and pears, with mid and low notes of musk, amber and cedarwood.

Year Introduced:

1993

Recommended Use:

daytime
No reviews written for this product
I have used il bacio for about 18 yrs. This is the only fragrance that smells great on me! Other perfumes I have tried do not smell the same on me as they do on other people. I have gotten many compliments on this fragrance almost every time I wear it! I wouldn't use any other fragrance!
Written by AMA on May 30, 2014
Read Review details ►
Il Baccio is one of my favorites! The smell of it is alluring. This frangrance gets noticed and is very enticing.
Written by Josie on January 31, 2014
Read Review details ►
I love this perfume, I can always smell it on myself which is rare for many of the perfumes that I buy. I wore it to work today and already received two compliments. One Lady actually got out of the elevator to ask me what perfume did I have on! It is a keeper.
Written by Joann on January 09, 2014
Read Review details ►
I love bacio. Its a nice woodsy Suttle smelling her parfume.. I went to the dentist the other day, and ask the girls what they're wearing they smell so good. They says not really anything. I came home, and as I was taking off my clothes I realize it was me who smellrd so good...Of course I had bacio on. I'd recommend this for middle age on up not for teenagers. I love the way this fragrance smells, & I might add, the men like it too.
Written by LaWana Gordon on December 25, 2013
Read Review details ►
I have used il Bacio for about 15 years and it is so expensive at dept. stores that I don't purchase it often. . I wait for it to be given as a gift! I found the price at FragranceNet to be very reasonable, shipped in a timely manner and I'm very happy with the product. I was nearly out and already starting to my children that I wanted it for Christmas!
Written by Jane Edgeworth on September 17, 2013
Read Review details ►