Oh My Cat
Edt
UFor Women & Men
Item #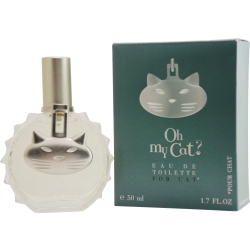 Design House:

Dog Generation

Fragrance Notes:

Olive Leaf, Rosewood, Bergamot, Mandarin, Amber And Musk.

Year Introduced:

2001

Recommended Use:

casual
No reviews written for this product
O My Cat~! My Pretty Kitty "Viva Mocha" Loves this fragrance for cats! She waits after being brushed, because she knows, until she gets wiped down with her signature scent...she's not finished! She smells GREAT afterwards...She rubs up on everything...and then goes back and sniffs! She likes it that MUCH~!!!!
Written by Karyn on July 24, 2012
Read Review details ►
Very interesting concept, a fragrance for your cat. Yep, it's not bad to wear on yourself as well! It's not very strong, it was developed and approved with veterinarians. You spray it on a pad and then pet down your cat with it, not spray directly on. It's a novel concept but not a unique or memorable enough scent.
Written by Scotty on May 19, 2010
Read Review details ►
Oh My Cat, my cat likes this very much, and so do I. Fresh, clean, not over powering. Subtle, just right for kitties!!
Written by Mary B. on February 07, 2009
Read Review details ►
I originally picked this up because there was a cat on the box; after I smelled it (and enjoyed it) I realized this fragrance is for cats! My mom and I both agreed we would wear it despite it's feline target. I bought it for my cat as a Christmas gift, but cheated and tried it on him with the supplied application cloth before the holidays. It makes him smell wonderful, I LOVE IT!
Written by XSuMZX on November 11, 2006
Read Review details ►