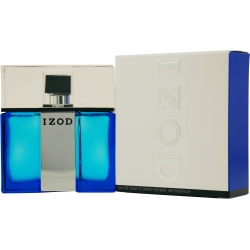 Design House:

Phillips Van Heusen

Fragrance Notes:

tangerine, lime, mint, grapefruit, air accord, cucumber, cyclamen, cotton, juniper, lavender, saffron, incense, tobacco

Year Introduced:

2008

Recommended Use:

casual
Izod cologne is a sophisticated, masculine scent that will help provide the confidence you need to tackle each challenge as it comes to you. Introduced in 2008 by Phillips Van Heusen, Izod features base notes of cotton, incense and tobacco. Combined with the tangy scents of lime, grapefruit and cucumber, it is a casual fragrance that will attract attention without overpowering. Spritz the cologne on first thing in the morning for a subtle scent that will last all day.
No reviews written for this product
Very satisfied with the fragrance (Mens Izod) and size of the container. The order was easy and prompt and at a good price. Would highly recommend to others.
Written by Roho on February 08, 2013
Read Review details ►
IZOD is Awesome!!!...Only downside is you must use alot because it is a pretty little/subtle scent and becomes even lighter after a while, but the ladies LUV IT(I'm always getting compliments from down-right hotties and I'm no Fabio dude) I'm stocking up on this stuff!!!
Written by RossDaMan on September 19, 2012
Read Review details ►
a most excellent cologne. women have stopped me and asked what cologne i have on
Written by david anderson on August 11, 2012
Read Review details ►
Izod is all I wear. I'm a collge student so I have to spend money wisely. This product allows me to do just that. It last all day for me, but I freshin up maybe about 4 hours after applying. It smells wonderful, a lot of people ask me what fragrance is that. They can hardly believe that it's Izod. I love it, and recommend it to everyone. You can smell great for less.
Written by Attorneyatlaw. on February 03, 2012
Read Review details ►
IZOD is a very good cologne, It lasts long and the ladies love it(Young and Cougs)
Written by Mighty DR on December 17, 2010
Read Review details ►