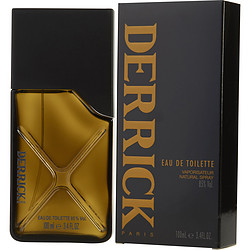 Design House:

Orlane

Fragrance Notes:

exotic spices make up this masculine scent.

Year Introduced:

1993

Recommended Use:

casual
No reviews written for this product
This cologne was purchased as a Christmas present and when I tried it my wife wanted to know the name because it smelled so good on me (is the first time she has asked me what I was wearing because she really enjoyed the aroma).
Written by VaSpursFan on January 05, 2012
Read Review details ►
when buying online you never know what its going to smell like. derrik black is just what i was looking for. i use to wear grey flanel and polo. started wearing obsession which is sweet and spicy. i wanted a strong cologne and i got it. very pleased. made in paris france by the way.
Written by Anonymous on June 28, 2009
Read Review details ►
All my female co-workers enjoy this fragrance as much as I do!
Written by Steve on January 14, 2008
Read Review details ►
are you man enough to put it on !this is what taking risks is all about..a bold and spicy statement,i wear it !
Written by will sniff ya! on June 15, 2007
Read Review details ►
Unlike anything. Totally different...very strong. Smells very foreign.
Written by Anonymous on October 23, 2006
Read Review details ►