Active Treatment Fragrance Spray
by Nickel
MFor Men
Item #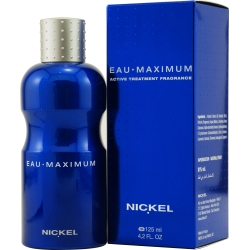 active treatment fragrance spray 2.6 oz
Design House:

Nickel

Fragrance Notes:

orange, cedar, spearmint, cinnamon, thyme, sage, grapefruit, tea leaf, coca leaf, patchouli and white musk, rosemary, nutmeg

Year Introduced:

2006

Recommended Use:

casual
Nickel Eau Maximum is an energetic men's cologne with a fresh aroma. This sensual fragrance features bold spices and invigorating citrus. A base of cinnamon and nutmeg combines with notes of coca leaf and tea leaf to provide a tempting aroma. Lemon, grapefruit, and orange give this cologne a burst of exciting citrus. This fragrance, introduced in 2006, by Nickel, is ideal for casual wear and will get you noticed.
No reviews written for this product
I got my first bottle of this when a woman in thew store where I was kept smelling it. I asked her what it was, (thinking it was a woman's scent), and she told me that it was a man's scent. She also talked about how much she like it, and would looove to smell it on a man (no, she didn't work there). I bought it, took it home, and my wife had the same reaction! :-)
Written by Mufasa205 on March 07, 2012
Read Review details ►
I am "woman"..and I love this scent; it is amazing - try it and you will surely like it! Price isn't bad either!
Written by Andrea - New Orleans on December 17, 2010
Read Review details ►
Very nice, masculine, citrus fragrance with woody undertones. Ideal for daytime wear. I can't reccomend this enough.
Written by Lawrence on October 03, 2009
Read Review details ►
This scent has a life of it's own. At first it seems like a scent you've already known, but then it becomes something altogether different when it mixes with your body chemistry. I'd wear this cologne anytime, anywhere.
Written by cheddar13 on May 26, 2009
Read Review details ►