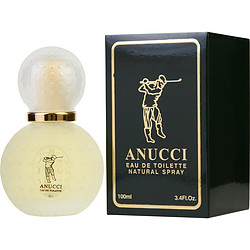 Design House:

Anucci

Fragrance Notes:

crisp, exciting fresh floral with oriental notes of subtle spices.

Year Introduced:

1989

Recommended Use:

daytime
No reviews written for this product
I had a cousin that wore Anucci and I always loved the smell of it on him so I got it for my male friend some and he wears it well. It's a grown man smell. I think about my cousin! James RIP and know that you left a cologne behind. Only real men can wear it and well as you did.
Written by mdraper on February 17, 2014
Read Review details ►
I found this scent to be amazing, I have been wearing it for 14 years and I still get compliments to this day. Truth: I don't wear it to work anymore as the women are always asking what are you wearing and often miss their bus hanging around the transit station.
Written by Mjiller on April 10, 2013
Read Review details ►
A friend from work suggested Anucci to me. I've not been more satisfied in colgne. By far the best colgne I've ever used.
Written by jcIII on February 28, 2013
Read Review details ►
I love this product, it is the fourth time I have purchased Anucci for my husband. It is one of his Favorites!
Written by dcgirl919 on February 20, 2013
Read Review details ►
I have been using this cologne for 20 years now and never get tired of receiving complements. A wonderful scent emulates from its use.
Written by LG on September 28, 2012
Read Review details ►