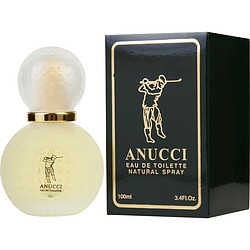 Design House:

Anucci

Fragrance Notes:

crisp, exciting fresh floral with oriental notes of subtle spices.

Year Introduced:

1989

Recommended Use:

daytime
Anucci by Anucci is an impressive, light cologne for men known for its exciting fresh floral base. The crisp florals are accented with Oriental notes of subtle spices, creating a scent that draws attention without being overbearing. Introduced in 1989, this classic cologne brings with it a sense of elegance and sophistication and is suitable for casual, everyday use. Splash it on in the morning to communicate your sense of style and power to everyone you encounter during the day.
No reviews written for this product
OLD SCHOOL COOL,im in my early fourties and i've been wearing this since i was 19.(GROWN MAN)
Written by GROWN MAN on August 17, 2012
Read Review details ►
I have been buying this fragrance for my husband for over 15 years, we both love it.
Written by SalinaBonds on July 17, 2012
Read Review details ►
i've been wearing Anucci for almost 15 years now and STILL get compliments everywhere I go. It used to only be available in a large department store here in Houston, but no longer. IT IS AMAZING!
Written by Anonymous on June 24, 2011
Read Review details ►
I've been wearing this cologne for roughly 13 years and I still get compliments to this very day. This scent is a good investment (paticularly if you work around women.. if you catch my drift ;-)
Written by Enigmatic_Guy on November 02, 2010
Read Review details ►