Shower Gel
MFor Men
Item #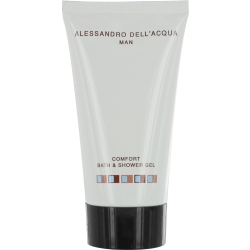 Design House:

Alessandro Dell Acqua

Fragrance Notes:

A romantic, yet masculine fragrance with grapefruit, bergamot orange blossom and lemon rounded out with clary sage, cardamom and woods.

Year Introduced:

2003

Recommended Use:

romantic
No reviews written for this product
got this as abirthday present & it went over soooo well, that i've brought more for other special occasions. LOVED THE SCENT!!!!!!
Written by CANON - Topeka,ks. on July 26, 2012
Read Review details ►
I like this scent Allessandro del Acqua but you havent carried it for two weeks already this is the only place that carried it and purchased 4 bottles. I wish i know when your going to get this again i could order 6 to 8 bottles. thanks
Written by Brothers on July 23, 2012
Read Review details ►
This Perfume is very special and it really makes you unique. The first time i used it i knew it was gonna be on my top 10 best perfumes of all times!
Written by Amber on September 15, 2010
Read Review details ►
I got Alessandro Dell'acqua as a gift from my wife. I like to wear it all the time..It's so elegant..
Written by Dragon of BC on June 16, 2010
Read Review details ►