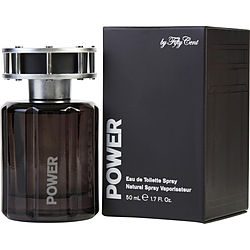 Design House:

50 Cent

Fragrance Notes:

nutmeg, black pepper, lemon leaves, dark woods, coriander, oakmoss, patchouli, musk, artemisia

Year Introduced:

2009

Recommended Use:

casual
No reviews written for this product
At first i wasnt sure whether to buy this or not but im happy i did. Smells great and i get alot of compliments.
Written by chris on December 27, 2013
Read Review details ►
Off top I give it a 9 it smells great and last long on my skin awesome fragrance you want be disappointed all notes jump out the lemon the pepper and just smooth and sexy
Written by tspencer1 on May 09, 2013
Read Review details ►
I really enjoy this fragrance it really gets the ladies looking.I will buy again.
Written by Denny on March 06, 2013
Read Review details ►
The 50 cent fragrance power smells absolutely lovely. Im not very much into perfumes but this one is a very delicate smell that also smells very sexy!! Highly recommend it
Written by Lara1 on September 14, 2012
Read Review details ►
this stuff is good for the price, and is good for high schoolers. it lasts a good amount of time.
Written by ME on January 02, 2012
Read Review details ►