Bond No. 9 Eau De New York
Eau De Parfum
by Bond No. 9

100% Authentic
Item #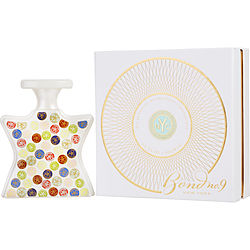 Zoom
eau de parfum spray 1.7 oz
eau de parfum spray 3.3 oz
Free Shipping in U.S. (orders over $59.00)
Design House:

Bond No. 9

Fragrance Notes:

Mandarin, Grapefruit, White Wood, Petitgrain, Bergamot, Cyclamen, White Lily, Neroli, Gardenia, Vetiver, Oakmoss, Skin Musk, Basil, Verbena, Jasmine

Year Introduced:

2004
No reviews written for this product
Bond no9 Eau de New York,wow!!i get a burst of citrus top notes,then it transitions to neroli like 8min,The dry down continues with neroli paired off with green vetiver & petitgrain!!Wow,I get beastly longevity with moderate projection!!!The best green Neroli fragrance I've smelled!!!This is a masterpiece!!!
Written by Vicente... on August 12, 2015
Bond #9 Eau De New York is the best scent I've found in 65 years of looking (and smelling). Today happens to be the first day of my 65th year so I am on the site placing an order. My new son in law, married 2 years ago, found a bottle of NY#9 in his wedding booty. He said he had enough fragrances and, besides, it was a unisex scent and he was uncomfortable with that?!?. Not me! I gave it a spritz and started counting the compliments...after the wedding, in my office, on the train...2 years of really positive feedback. So, I'm a 6'5" 270 lbs. guy who has yet to be accused of smelling "parfumy" (let's let it be a word just for today). I'm tempted to try another #9, but like my favorite watch, favorite pen, favorite car, favorite wife, etc., I'm not inclined to check in my favorites for something risky...well, maybe a thing or two, but not my #9. Thanks for a wonderful product!
Written by Behr on May 07, 2015