write a review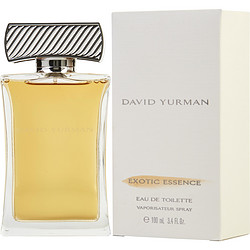 Featuring a striking combination of natural aromas, Exotic Essence by David Yurman is an impressive daytime perfume. This haunting women's fragrance, introduced in 2011, was inspired by the citrine gemstone, and the spirit of the jewel shines through in both the perfume's striking amber color and the amber in its scent. A selection of sweet and fruity aromas, such as vanilla, peach skin, and mandarin, dance playfully over an earthy backdrop of sandalwood, patchouli, musk, and exotic woods.
Write a review and share your opinion about this product with others.
Just fill out the form below and click the "submit review" button.
Thank you for your effort. We appreciate it.
We'd Like to Thank You
to receive special offers & coupons! (optional)
This is a timeless,elegant fragrance.i've worn Caleche. since the. 1970's . Classic and yes modern at the same. time! If you love a fragrance with the crisp ,clean notes of aldehydes. this is it !
Written by janetstevesgirl on March 15, 2014
When I wear Caleche, there is not one man who smells it on me, who will not comment on that beautiful smell and stay close. I am not joking! I wear it all the time, during the day not quite as intensive, I wish you had more or different offers, such as eau de toilette, and something lighter for daytime. Please keep stocking it! There are legions of grateful fans.
Written by Dorothea on February 05, 2014
Caleche is simply the most beautiful scent I have ever used. Warm, feminine, bright, sexy...I wear it anytime and am never disappointed. I have worn it since the late 60's and it seems not to have changed at all, as some other fragrances have, due to te use of synthetics. It reminds me of secrets shared, walks along the shore, dancing to a great orchestra, and wearing silk chiffon. Thank you...thank you for making this available!
Written by Bonny on October 03, 2013
I discovered Caleche in the early 70's and it remains my favorite every day, anytime fragrance. Sweet, subtle, with a touch of tang and base notes of great warmth and sophistication, it is ligh, even powdery,t but oh-so-memorable. Every time I wear it I remember, not just singular memories, but whole chapters of my life. Different from anything else I have ever worn, it qualifies more as a chypre, which gives it that bright, sparkling quality and a bouquet that has not suffered as many others with the substitution of man-made elements for essential oils, My absolute favorite...and I wear 15 regularly!
Written by Julieanne on October 03, 2013
Caleche is among the most elegant and singular fragrances ever created. Like its more luscious sister product 24 Fauborg, it is unique and molds to the person wearing it. And: like no other.
Written by LM on July 09, 2013
I wore Caleche one evening out in the 70's. I was in a nice bar talking baseball to several interested men. One of the gentlemen just stopped and said, "Your perfume........oh wow" and passed me gently to each of the other gentlemen so they might have a whiff of this remarkable scent. The whole thing is a lovely memory. No one was rude. They were all quite taken with the beautiful fragrance. This is a true story!!
Written by E. Catherine on February 21, 2013
i have worn hermes caleche since the 60s and absolutely love it! caleche never fails to evoke a rush of wonderful memories, of occasions, people and events and ensures, as i spray a little here and there, that i am about to add to that treasure trove. unfortunately my experience would indicate that the range once available is no longer. caleche, a stand out subtle parfum that begs to be acknowledged... and is!
Written by rae mae on July 14, 2012