write a review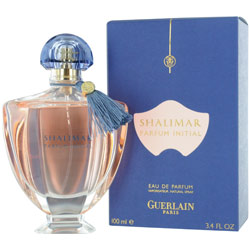 Shalimar Parfum Initial by Guerlain launched in 2011 to delight the noses of women who love a fresh scent with body. It combines citrus fruits with zesty bergamot to help you leave a truly refreshing first impression on anyone you come in contact with. Rose and jasmine join the aroma party, ably chaperoned by base notes of vanilla and white musk, which result in a really warm daytime perfume. Just dab this scent behind your ears to be transported to a truly sophisticated and feminine place in an instant.
Write a review and share your opinion about this product with others.
Just fill out the form below and click the "submit review" button.
Thank you for your effort. We appreciate it.
We'd Like to Thank You
to receive special offers & coupons! (optional)
Perfect for winter with it's warm, powdery sweetness with a hint of spice. The name is perfect for this perfume.
Written by HODGEPODGESPV on September 29, 2014
Read Review details ►
Beautiful update of classic Shalimar. Really beautiful fragrance with the oriental vibe that Shalimar has in a softer, more wearable version for today. Good sillage and longlasting.
Written by Rickyrebarco on September 15, 2014
Read Review details ►
I fell in love with Shalimar Initial. It isn't as intense with spice and vanilla as the original which makes it more modern. Lovely florals with soft dry down. It is my security blanket in that i spritze each wrist when I'm ready for bed and i sniff my way to dreamland.
Written by gypsytejas on May 28, 2014
Read Review details ►
I have been using it & loving its since I was 19 & my to father-in-law got me my first bottle. I still love it as does my husband. Nothing new can compare I have been married to the same wonderful man for 43 years. I am now 65. I always get compliments.
Written by Shirley on May 23, 2014
Read Review details ►
SHALIMAR ! what lovely memories that beautiful scent holds for me . In 2 days I will be celebrating my 93rd birthday , which means I have been using SHALIMAR for 70 years . My husband gave me a bottle on our second wedding anniversary and made sure I was never without that heavenly perfume . We both enjoyed my using it , I used to tease him about being envious because he couldn't wear it.
Written by MURIEL on February 07, 2014
Read Review details ►
In all the years I have been wearing scents...Shalimar has always been my very favorite. Compliments from everyone who catches a whiff. It is the greatest scent Ever!!
Written by Anonymous on December 13, 2013
Read Review details ►
I just got Guerlain's Parfum Initial. I'm 23 years old and am planning on wearing it every day. It is such an INTERESTING smell, it lasts all day, and I keep trying to smell myself to 'figure out' all the notes. It could be best described as a spicy floral scent. It's very unique, and very beautiful! I feel so elegant wearing it!
Written by Anonymous on December 06, 2013
Read Review details ►
My mom always wore Shalimar, and now my sister does, and the scent evokes such wonderful memories, that I usually give this as a gift for birthdays and/or Christmas! Long lasting, and makes you want to hug the wearer!
Written by Joe W on December 06, 2013
Read Review details ►
I've worn Shalimar since the time I could afford special perfume and cologne. It became my 'trademark', and I was asked often what scent I wore. Then Samsara came along, and I kept my Shalimar as a base, but added touches of Samsara as an enhancement. On me, it was a perfect combination, and even entering a plane I was asked "what's that scent?" Over the years as a kindergarten teacher, children would say, "I didn't see you, but I knew you were here because I could smell you." Then came Shalimar Initial and I added a touch to my "signature scent". I am now 70, still wearing my combo of the 3 scents. Children say, "You smell so good". Women ask all the time what I wear. Men of all ages come right up to me to get a closer whiff!
Written by Jyl on November 26, 2013
Read Review details ►
SHALIMAR...I HAVE BEEN WEARING IT 30 YEARS...I HAVE ALWAYS TRIED OTHER SCENTS AND RETURN TO THIS BEAUTIFUL CLASSIC. MANY COMLEMENTS FROM MEN AND WOMEN. IF STRESSED,IT CALMS,AND ALWAYS MAKES ME FEEL ABLE TO FACE WHATEVER A DAY MAY BRING. THE PERFUME IS WORTH THE PRICE AND LASTS ALL DAY.
Written by SUSAN on July 29, 2013
Read Review details ►