write a review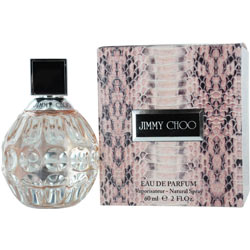 Jimmy Choo by Jimmy Choo is a casual, feminine fragrance which speaks of fun and relaxation. Introduced by Jimmy Choo in 2011, this perfume features notes of mandarin, orange and pear combined with hints of orchid, patchouli and toffee to create a lovely scent that can be worn during laid-back daytime functions. This sweet fruity, flowery scent is perfect for women who embrace the spirit of youth.
Write a review and share your opinion about this product with others.
Just fill out the form below and click the "submit review" button.
Thank you for your effort. We appreciate it.
We'd Like to Thank You
to receive special offers & coupons! (optional)
I stepped out on a limb and was surprised, the price was excellent and the fragrance was really nice, I am defiantly adding this fragrance to my "BUY AGAIN" list. Not overbearing and yet very sensual.
Written by Kischa on July 23, 2014
Read Review details ►
Love the scent of Jimmy Choo, I get so many compliments when I wear it it's my favorite, fresh, clean smell that makes you feel good all over. Perfect everyday wear.
Written by me on June 11, 2014
Read Review details ►
IT REMINDS ME OF THE OLDER " EXCLAMATION " FRAGRANCE. IT HAS A WONDERFUL PROVOCATIVE SPICY, YET SUTTLE CINNAMON/VANILLA SCENT TO IT. IT'S DELICIOUS. IT LINGERS ON YOUR CLOTHES, WHILE THEY HANG IN YOUR CLOSET. YOU WILL BE ASKED .. WHAT ARE YOU WEARING, IT SMELLS WONDERFUL.
Written by LM on May 25, 2014
Read Review details ►
I stumbled upon this scent in a magazine. I open the flap and was in awe of the scent. The scent is very pleasant. I use it when casually and formally dressed. Great choice
Written by Gee on April 08, 2014
Read Review details ►
Jimmy Choo perfume and Bobbie Brown's Bath are tied for best fragrances ever, in my opinion. Bath is a very fresh, light, pleasant scent for everyday. Jimmy Choo is a modern light sexy scent.
Written by joanie on March 04, 2014
Read Review details ►
This sent caught me by surprise as add in a magazine..I usually don't even bother to open the flaps of the fragrance but I did this one. Immediately, I liked the extreme degree of emotion it brought forth. I like it so well I sent it as a gift also. It is nice for a change to follow the freedom of a new pleasant scent.
Written by josie on February 11, 2014
Read Review details ►
I purchased the 3.3 oz. of Jimmy Choo because I love the smell of it and I couldn't believe the price that I paid for it!I It was a fantastic price compared to other places. I received it within a few days and was exactly like it was supposed to be. I usually don't order perfume online because I'm afraid it might be totally different, but this was the original stuff! I wear it every day and get many compliments!!
Written by Gere M. on January 27, 2014
Read Review details ►
This really is an everyday type of perfume. It's like a more modern take on Ralph Lauren- Ralph. They are very similar, but this is a little more grown up. It makes me think of just getting out of the shower in the springtime; very floral, but not rosy... more gardenia and peony. It's fresh, but it can be overwhelming if you don't wear fragrance or are sensitive. I personally love fragrance and wear something everyday, so to me Jimmy Choo is perfect to wear everyday, to the office, and to lunch... your lunch date won't smell it over the table. But when someone leans in close, they will more than likely compliment you on your fragrance.
Written by Curly Hair Bear on January 09, 2014
Read Review details ►
I am very choosy when it comes to perfumes. Some of my favorite scents are Flowerbomb, L de Lolita Lempika, Loverdose by Fuel, Dolce and Gabanna Light Blue, Philosophy's Unconditional Love, Viva La Juicy and then there is Jimmy Choo. Jimmy Choo is a warm sensual scent.. I just feel great when i put it on. I get so many compliments on it. I would say this is a better winter scent than summer scent. I would definitely put it in the Flowerbomb category but it's not flowery. It just smells beautiful and I recommend trying it to anyone that might be unsure. If you want to smell sensual, with just enough sweetness to make it just right, try Jimmy Choo. I'm on my 3rd bottle. The notes come together for a perfect combination.
Written by Perfumeaddict on January 09, 2014
Read Review details ►
I purchased the Jimmy Choo perfume after smelling it on a friend. I absolutely love this perfume! I wasn't sure which one to purchase (EDT vs EDP), I was told that the EDT was a lighter version and smells different than the EDP. I purchased the EDP and it was perfect for me. I can still smell the perfume on me the following day after waking up. Love it!
Written by Maggie C on January 05, 2014
Read Review details ►