write a review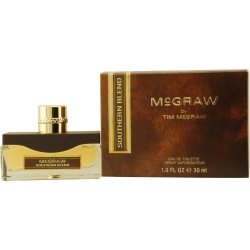 McGraw Southern Blend is a cologne for men introduced by Tim McGraw in 2009. Since that time, it has quickly become a favorite for those men who exude a casual confidence. Notes of grapefruit, star anise and bergamot are balanced with base notes of whiskey accord, amber and tobacco. The resulting blend is intoxicating but never overreaches. You'll find loved ones, and maybe even strangers, leaning in to fully appreciate its complex scent. This cologne is perfect for everyday, casual wear.
Write a review and share your opinion about this product with others.
Just fill out the form below and click the "submit review" button.
Thank you for your effort. We appreciate it.
We'd Like to Thank You
to receive special offers & coupons! (optional)
Southern Blend is simply a very sexy aroma!! My husband started wearing this last year and every single time he has it on...all I can say is " Yummy Baby " very light, long lasting and definitely a women magnet ;-)
Written by Fawnstew on August 01, 2013
Read Review details ►
Like it a lot for every day and a little for going out with the wife. She really likes this blend. Can't say much for the silver or original. But the southern is just right for a out door kinda guy. Don't go much for colognes but when I do I keep coming back. I have a nice blend with Tim McGraw Southern, Curve and CK Free.
Written by Anonymous on January 22, 2013
Read Review details ►
My son loves this cologne. Ordered the larger bottle so it would last longer as the little bottles go fast.
Written by bw on November 23, 2012
Read Review details ►
McGraw Southern Blend by Tim McGraw - My husband who is 61 loves this cologne and I equally like it on him.
Written by Anonymous on October 04, 2012
Read Review details ►
Not a bad scent at all for a celebrity endorsed fragrance. Its very masculine with a whiskey and tobacco feel. And you cant beat the price a very good cheapie.
Written by Bill on August 07, 2012
Read Review details ►
My hubby wears this and wow, I can hardly keep away from him, it is just the right blend of dark and musky with light and fresh. Very masculine and very very very hard to resist.
Written by soulsurvivor34 on June 07, 2012
Read Review details ►
Great cologne need larger bottle sell more than .5 oz that is great cologne but when you do the math it's a bit pricey even at fragrance net prices.
Written by Roy, CT on March 19, 2012
Read Review details ►
This cologne makes me weak in the knees. No joke. Even our teenage Daughter said "wow..that smells amazing". I beg my Hubby to wear it often!! Love it.
Written by ladynred on February 13, 2012
Read Review details ►
I have smelled many fragrances on men before but this one by far is my favorite. My boyfriend started using this one and anytime he switches it up I get a little disappointed because this just suits him so well! Says "I'm a hardworking man" but still has that flirty sexiness about it as well. Highly recommend
Written by verawillow on November 26, 2011
Read Review details ►
Smelled many fragrances in the store and this one truly sticks with you. Memorable long after I left. It's a perfect scent that doesn't try too hard, but says the man knows what he's doing and has distinctive taste. Do not wear this if you are not well groomed and decently dressed. Do the fragrance justice or it is wasted on you. This will really compliment you as a complete package.
Written by Dutch Girl on September 11, 2011
Read Review details ►