write a review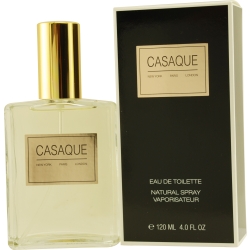 Casaque perfume for women is a spray that is sure to invoke a calm feeling. The casual perfume features notes of hyacinth, musk, sandalwood, and more that make it inviting. The 1957 spray by Long Lost Perfume is sure to make an impression, and it's ideal for women of any age who love a floral scent. The fragrance will last through your work day or through any afternoon event.
Write a review and share your opinion about this product with others.
Just fill out the form below and click the "submit review" button.
Thank you for your effort. We appreciate it.
We'd Like to Thank You
to receive special offers & coupons! (optional)
Casaque was not the perfume for me. It reminded me of something my grandmother would wear
Written by Kitty14 on August 29, 2013
Read Review details ►
Just received my order of Casaque,I've been searching forever to find this fragrance again wow it was great.
Written by Anonymous on July 08, 2013
Read Review details ►
I fell in love with Casaque by Jean d'Albert when I was working at a perfume counter at a high end department store in the late '70s & early '80s. I cannot tell you how many compliments I used to get -- it was my "signature" scent. To find it again after all these years is such a thrill for me! After all of the scents I used to try to replace it, I never got the compliments on how good I smelled again & never could find a "signature" scent. I was bummed! But the "What are you wearing?" questions are back now that I am wearing Casaque again! Thank you Long Lost Fragrances -- it smells just like the original and when I wear it, it smells just as modern as anything they have out now. Thank you, thank you , thank you!
Written by Suzy on February 01, 2013
Read Review details ►
This was a surprise Christmas gift in 1967 and I was so happy with it. I wore it mostly on dates and definitely to every dance. It made me feel so bouncy and happy. I liked the scent of green vines that was mixed in with it. I would definitely recommend this, and will buy it again. Thanks Long Lost Perfume!!!
Written by KjG on October 13, 2012
Read Review details ►
My sister brought me a bottle back from a cruise she and her husband took in the 70's. I fell in love with the fragrance as did everyone in my family. I am so happy it is back. I bought one bottle and am buying another. This is one fragrance I save for special occasions. But if I can be sure it is going to be available it will become my only fragrance.
Written by OKC Girl on August 10, 2012
Read Review details ►
My last memory of Casaque is when my sweet boyfriend and United Airlines pilot gifted me with a glass container of pure perfume. I was in love in 1967. I wore it until it was gone and never found it again. Now, I'm an old lady, my "boyfriend" married another and has passed on at an early age and I'd like to recapture the essence and memory of that first love, an homage to the past and fresh thrill with my long time love and husband of 36 years.
Written by Lani on December 14, 2011
Read Review details ►
Learning that Casaque was in the market again was like finding a long lost love. I owned my first bottle of Casaque when I was 15, in 1970. Many people asked me what fragrance I was wearing. My dear mother loved that wonderful smell, also. When I received my Casaque (I have to say that I also bought Ecusson, which I also happen to love,) it was like reliving those old memories. Thank you, Long Lost Perfume, you've made me and my husband happy.
Written by M. Yanes on October 12, 2011
Read Review details ►
My review is from the 1970's when I wore Casaque by Jean d'Albert. I only wore it. Nothing could compare! I can't believe it's back! I looked in the mid 80's for it and could not find it anymore. I will be ordering some when I get paid. I hope it smells the same as before. I can remember though, that it came in a light blue/gold box? No matter, I loved it!
Written by alleycat51 on August 13, 2011
Read Review details ►
Casaque the perfume I used since High School in the late 60s. It brings back my first High School Crush as we danced at the school dance and he said "Love the scent you are wearing". I was so unhappy when I could no longer get this French Perfume, but have bought one bottle from you and it was fine... Oh those memories came back again that I actually saw that first boy I had a crush on two months ago in New York. Guess what he said...I like that perfume you're wearing. I can get the perfume from you, but cannot get the boy, for he is happily married for 35 years...ha,ha...
Written by Evey on July 07, 2011
Read Review details ►
casaque I loved the smell the first time I tried it Just Wonderful never stop liking it Very delightful.
Written by luria on February 20, 2011
Read Review details ►