write a review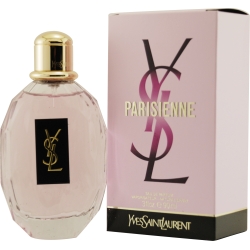 Parisienne enhances the sophisticated style of a modern woman embracing life on her own terms. Introduced in 2009 by Yves St. Laurent, this decidedly feminine fragrance calls to mind urban playgrounds and retro fantasies. Sweet blackberry and deep violet notes are tempered by sandalwood, spicy patchouli, and musk in an appealing balance. An excellent choice for casual use, Parisienne is the perfect companion for tackling a difficult work assignment or the trendiest new off-Broadway show.
Write a review and share your opinion about this product with others.
Just fill out the form below and click the "submit review" button.
Thank you for your effort. We appreciate it.
We'd Like to Thank You
to receive special offers & coupons! (optional)
Love the light and airy scent, subtle yet endures well thro
Written by Anonymous on June 12, 2014
Read Review details ►
One of my favorites and now one of my daughter's favorites!
Written by Teri S on September 03, 2013
Read Review details ►
I love this fragrance. It is soft and stays with you throughout the day. Very nice.
Written by Kim on January 23, 2013
Read Review details ►
Parisienne, I love it! I am a hard to please fragrance person and when trying a new scent most end up irritating me and I wash them off shortly after putting them on. Not this one! Parisienne has become my new favorite! It is a clean scent combining flower, and fruit; I get rose and berry scents from it. It leaves a very soft yet distinctive lingering scent. None of the scents are overwhelming, they all combine well together, but they are able to retain their individuality. I can wear it anytime and find it very feminine. I wear it everyday and it makes me feel fabulous and special!
Written by andohir on January 23, 2013
Read Review details ►
so sweet and innocent, you smells like your in the garden full of different flowers, and stays with you forever. I love it!
Written by june on June 07, 2012
Read Review details ►
Parisienne body lotion and fragrance is the best I have ever had. It is so soft and I am unable to smell it only those around me sells it and that I like. Each time I find a fragrance that is not irritating and loud it is discontinued. I have not been able to find the body lotion or the colonge(fragrance) in the Memphis area since before Christmas and I only see the colonge in this advertisement.
Written by clr on February 09, 2012
Read Review details ►
i got Yves Saint Laurent Parisienne based on the reviews alone and i could not be happier! rosy, sensual, heady, delicious, sexy, mysterious, and very feminine. perfect for a romantic evening, a night partying, or anytime. wore it new years eve, got kissed at midnight and the first thing the guy said after was "wow you smell great!" i want to wear it all the time every day and the only thing stopping me is that i want to conserve this fabulous fragrance. ladies, we've got a winner here.
Written by NYCfashionista on January 02, 2012
Read Review details ►
Parisienne is pure femininity! Berries and Roses. Heaven. Fabulous when wanting to showcase your feminine side...ruffles, silks, lace, sparlking gems. One of my all time favorites.
Written by Lydia J. on January 01, 2012
Read Review details ►
Parisienne seems like a new classic. I have worn Channel #5 and Oscar. I have a low tolerance for many of the newer or trendy fragrances. I will test one thinking it is nice and then end up desperate to wash it off within the first 15 minutes. I love this new fragrance, which merges with my chemistry rather sits on the surface of my skin. I prefer not to play second fiddle to my fragrance and I don't like scents that are so strong they burn my eyes. My sister visited me (I had not seen her in many years) and I learned that she also loves this fragrance and has similar low tolerances. This is worth a test run if you like floral classic fragrances whose personalities don't outshine you.
Written by cma on December 09, 2011
Read Review details ►