write a review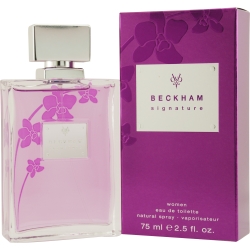 Beckham Signature is a unique perfume that will leave you feeling as beautiful as your scent. This fragrance was introduced in 2008 by Beckham, and it has charming notes of amber, anise, candy apple, musk, and vanilla that mix with other fragrances to create a moderate and mature scent. This fragrance is perfect for casual situations where you know you need to smell your best, so it's great for a day at work or a day out with friends.
Write a review and share your opinion about this product with others.
Just fill out the form below and click the "submit review" button.
Thank you for your effort. We appreciate it.
We'd Like to Thank You
to receive special offers & coupons! (optional)
I have been using Beckham Signature for couple of years. It's beautiful, and from the supermarket shoppers, to a Drs office to men stoping me in my tracks the all ask what I'm wearing. They want to buy it for their wives. My friends come to my house and spray themselves and I laugh. My son used to order it for me. I really need some will have to call customer service and order 3 Bottles. Thank you so so much. Fragrantly yours,
Written by Deanna gornstein on July 01, 2014
Read Review details ►
Beckham signature smells great..... I am a workaholic. lol this is one of my best ones.
Written by deedee on February 14, 2014
Read Review details ►
I ordered Beckham Signature because the ingredients sounded intriguing and have some of the notes I look for in a fragrance. I was expecting more of a sweet, clean, elegant smell. It was extremely spicy smelling. On me, it had a strong baby powder smell with a spicy little kick. I didn't much care for it, but I think my mother would like it. So its not a fail fragrance, great for a Christmas gift for her.
Written by Patricia L. on December 09, 2013
Read Review details ►
I've been wearing this perfume since it was introduced in 2008. I LOVE IT! I get so many compliments when I wear it. I have actually had strangers ask me what I'm wearing. It's not overpowering yet the scent lasts for hours.
Written by Soozen on October 11, 2013
Read Review details ►
I ordered the fragrance Beckman Signature and no where in the description did it say it was scented water that does not last more than 45 min. Didn't expect perfume for the price but at least something that I would use and would last at least one day. The order came quickly but am terribly unhappy with what I received. My daughter wears this and I tried it...hers must have been cologne.
Written by Joss on September 11, 2013
Read Review details ►
My husband gave me a sample from a dpartment store years ago and it has been my only perfume since then. I hope it continues to be produced or I will be in big trouble!
Written by Ellen on September 04, 2013
Read Review details ►
My daughter gave me Beckham Signature for Christmas a couple of years ago and it quickly became one of my very favorite colognes. Have just reordered from your company and certainly hope you will continue to carry it in stock.
Written by Sandra K on July 30, 2013
Read Review details ►
Love this scent! Get compliments at work, home, etc.... Please make sure its not discontinued and love the price! Hard to find and now need to try evening one!
Written by Maria :) on April 10, 2013
Read Review details ►
I really like Beckham Signature. Its a nice fragrance that get attention from both men and women. When I'm out I will be ordering some more for sure! It is definitely one of my favorites now.
Written by ahow1993 on March 21, 2013
Read Review details ►